When She Goes To War
By
Digest
• May 28th, 2009 • Category:
Deployment Newsletter
How Female Soldiers Experience Deployment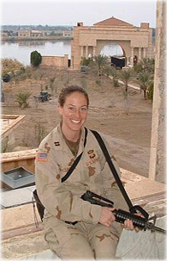 More women are deploying than ever before. According to the Department of Defense, almost 11% of the soldiers fighting in Iraq and Afghanistan today are female, up from just 7% during the Persian Gulf War. Like their male counterparts, military women often look forward to overseas duty.
When Charlotte McClumpha, an Army Captain, deployed to Iraq, she was excited. "Deploying is like you are finally getting to play in the game. You train and train, and now you get to use all your skills."
Captain Shannon Huffman, who has served in Bosnia, Korea and Kuwait, agrees. "In many ways I enjoyed deployments because there was much more of a focus on mission and very few distractions. Deployments also brought a real sense of purpose."
But when the realities of war set in, deployment is challenging – and emotional. One of the soldiers under Capt. McClumpha's command was killed when his helicopter was shot down by an RPG (Rocket Propelled Grenage.)
"I literally had to 'buck up' and not show my emotions. Before I had to tell the rest of my company, I went into my room, put my head under my pillow, smashed it into my head as hard as I could, and bawled for about 5 minutes. Then I got up, washed my face and went out to face the other 149 soldiers I was charged to lead and take care of. I don't know if men do something similar with their emotions – but as a female I always felt I couldn't show my emotions so they would accept me as one of them."
"I think there is a higher level of scrutiny on women," says Huffman. "Especially when serving in branches where they are few in number or recently introduced. Not only on performance, but on personal lives as well." Huffman, who served in Army Aviation, believes that men and women should be held to the same standards. "I do think the military is a place where high performance is recognized regardless of gender. If a woman performs well, her achievements are recognized."
Despite the challenges, neither Capt. McClumpha nor Capt. Huffman thinks deployment is harder for women in general. "I do think it's hard for mothers," says McClumpha. "I wasn't a mom at the time, but I am now, and I can't imagine leaving my son."

Digest is a monthly e-newsletter on deployment news and tips on parenting, relationships, finances and stress relief during the year of separation. Sign up by entering your email in the box at the top right corner of this blog!
Email this author | All posts by Digest