Who We Are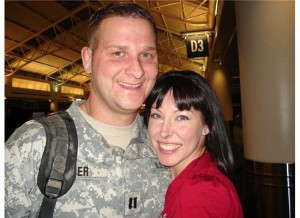 Katie Dyer is the Founder of Heroes At Home. She spent 10 years as a news anchor, and now works as a Certified Life Coach. Katie specializes in helping military families survive deployment, and in stress management, work/life balance, and resiliency training for civilians. Katie's other passion is animals. She volunteers in local shelters, and was a First Responder for the American Humane Association during Hurricane Katrina. Katie would love to see more people adopt shelter animals, and thinks the world would be a happier place if naps were mandatory.
Email Katie
Captain Paul Dyer is an infantry officer in the Army National Guard, who recently returned from a tour as an Embedded Tactical Trainer in Afghanistan. Before accepting a commission, Paul served active duty in the Army as a Forward Observer with the 24th and 3rd Infantry Divisions. In addition to Afghanistan, he has been deployed to Egypt, Isreal, Iraq, Japan and to New Orleans during Hurricane Katrina. Paul is now a full-time Guardsman, working in Officer Accessions. In his free time, he plays Rugby and is training for a marathon.
Email Paul
Katie and Paul were married for 4 years and continue to be friends and collaborators.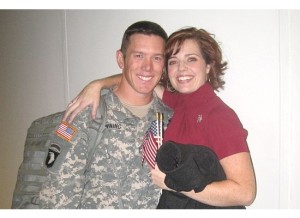 SFC Mark Browning is a full time senior non commissioned officer in the Army National Guard. His career includes service in both the regular Army as well as the National Guard and deployments to Cuba, Japan and Afghanistan. Mark has held positions including Combat Advisor, Infantry First Sergeant, Assistant Professor of Military Science and Recruiter. After receiving a degree from Vincennes University, he continued his education at Oregon State University where he met his wife, Kelly. When not in uniform, Mark has coached high school and youth wrestling, volunteered as a reserve police officer and loves camping with his family in beautiful central Oregon.
Email Mark
Kelly Browning is a full time wife, mother and OB/GYN Registered Nurse. Her nursing and health care background include ortho/neuro, pediatrics and managed health care. Kelly spent her childhood competing in rodeos, barrel racing and chasing cows. These days, she has become more accustomed to the suburban life and enjoys running, playing with her children and spending any free moments with girlfriends and Mark. Kelly wishes she had more time for pedicures and finishing the 'Twilight' series, and admits that she might have a slight addiction to handbags.
Email Kelly
Mark and Kelly have been married 9 years. They met at Oregon State University. They have two children, Joe (4) and Liz (1), and two Labs, Sandy and Jake. The Brownings live in Redmond, Oregon.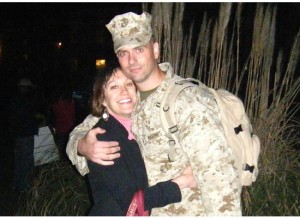 Jennifer Manocchio is a marketing and public relations professional. She is vice president at Sweeney, a full-service marketing and public relations agency. Additionally, Jennifer serves as the board chair for the North Carolina Southeastern Division of the March of Dimes. In her spare time, she runs marathons, spends time at the beach, and enjoys boating with Mike and their boxer, Monty.
Email Jennifer
Captain Mike Manocchio is an infantry officer in the Marines. He has served two tours in Iraq and one in Afghanistan, and has also deployed to Okinawa, Japan. Mike has also conducted training exercises in the Philippines, Irael and Norway. He has served as a rifle platoon commander, weapons platoon comander, company executive officer, operations officer and is currently a comany commander. When not at work, Mike enjoys boating, fishing and spending time with Jen.
Email Mike
Jennifer and Mike have actually known each other since they were born. Their moms went to grade school together and have been friends ever since. Their parents successfully played matchmaker one weekend when Mike was home from the Basic Officer Course. Two years later, Jennifer and Mike were married in Cleveland, Ohio. They have been married 4 years now and live in Wilmington, North Carolina.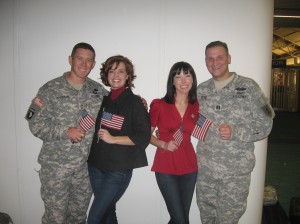 We decided to write this blog to share our own experiences of deployment, and the resources that helped us through it, so that no military family should ever feel alone in this journey. Please send us your own deployment stories via email. We want this blog to be a jumping off point for conversations about deployment between military personnel, their spouses, and the community as a whole.
Thank you for your service – we wish you a safe deployment.
Obviously, the opinions expressed in this blog belong solely to Paul, Katie, Mark, Kelly, Jennifer & Mike. They do not represent the views of the U.S. Army, the Army National Guard, the U.S. Marine Corps or any other military personnel or spouses.